IMPORTANT NOTICE: BEFORE YOU BURN, call the Fire District burn notification line at 573-346-3262 to find out if it is a burn day.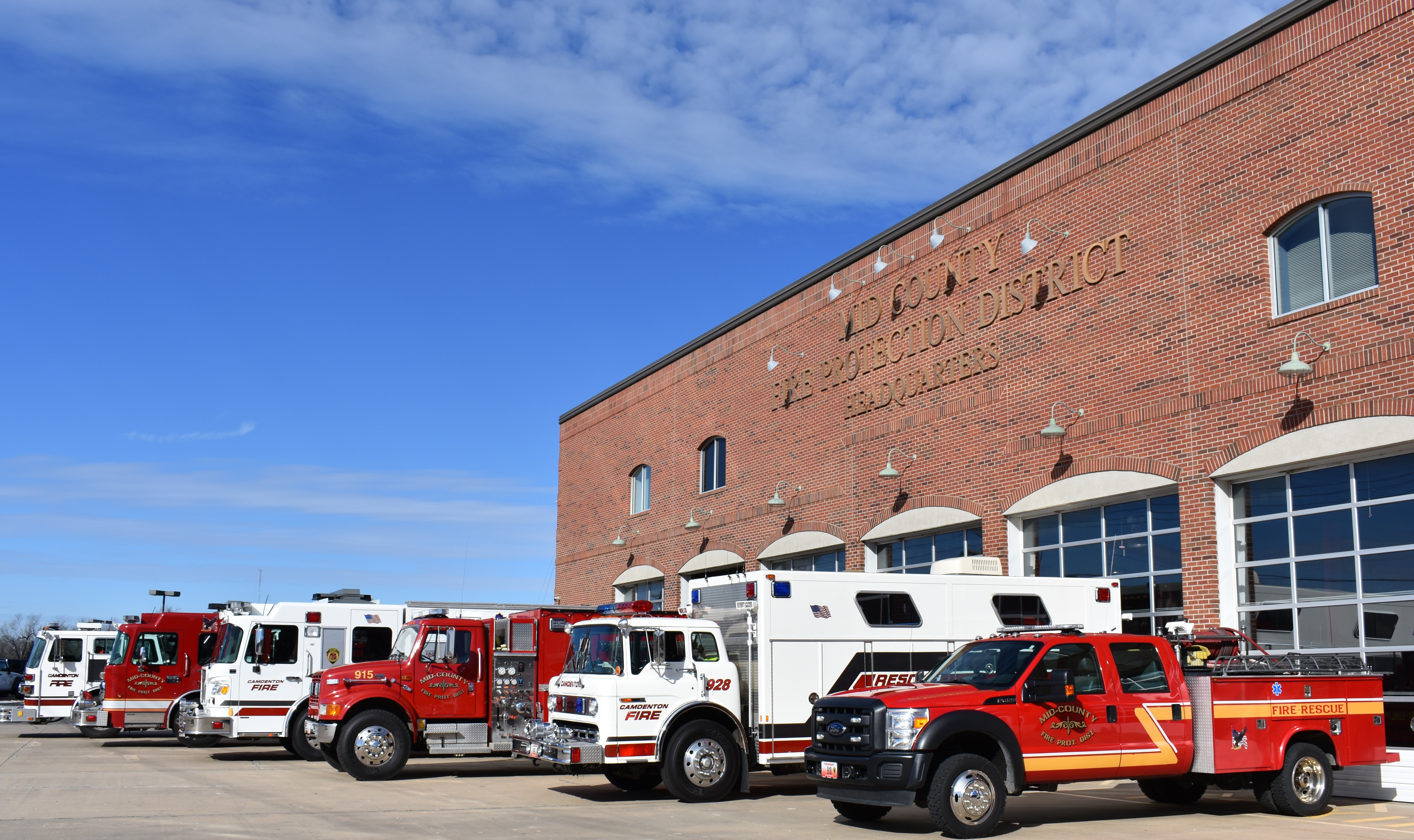 MID-COUNTY FIRE PROTECTION DISTRICT
Formed in 1986, the Mid-County Fire Protection District / MCFPD is located in central Missouri in the beautiful Lake of the Ozarks.  MCFPD encompasses 227 square miles in central Camden County.  MCFPD is a full service / multi-discipline department responding to approximately 2,000 emergency incidents annually including: structural and wildland fire suppression, vehicle and technical rescue, marine firefighting and rescue, dive/water recoveries, emergency medical services, code enforcement, fire prevention / public education, along with a host of other activities and services.  Additionally, MCFPD provides mutual aid service to the surrounding fire districts and fire departments.
MCFPD operates out of (7) fire stations and (2) fireboat docks house the following equipment: (5) Engines, (6) Tankers, (2) Rescue Engine, (2) 75′ Ladder Trucks, (6) Brush / EMS trucks, a Heavy Rescue / Special Operations Truck, (2) Fireboats, a Fuel/Utility truck, a Dive/Water Rescue Truck and (4) Staff Vehicles.  The MCFPD staff is comprised of (30) Volunteer Firefighters, (15) Paid Firefighters, a Fire Marshal, an Assistant Fire Marshal, a Training Officer, a Deputy Chief, a Fire Chief and an Administrative Assistant.  MCFPD operates 4 divisions that include: Training, Operations, Fire Prevention and Support Services.
On October 1st, 2016, the Mid-County Fire Protection District entered into a contract with the City of Camdenton to provide all fire, rescue and EMS services for the city.  This allows MCFPD to provide around the clock coverage to all the citizens, businesses and visitors to the City of Camdenton.
Contact Mid County Fire Protection District
This form is for general inquiries only. In an emergency, contact 911 for immediate assistance.
Greetings from Chief Frandsen
Welcome to the Mid-County Fire Protection District website. Our staff has worked diligently preparing this site, and we are sure you will find it both informative and educational.
Our motivated, dedicated and educated members provide a premium level of service to the citizens and visitors of our district. We provide around-the-clock coverage from our headquarter station #1 in Camdenton (184 North Business Route 5), from station #2 in Greenview (323 Twin Rivers Point) and volunteer coverage from our outlying stations.
If you have any questions about any fire district operation, or have any suggestions on how we may improve any of our programs or services, please do not hesitate to contact our office. We are constantly looking for individuals who are willing to challenge themselves and become a part of our organization.  If you would like to get information about becoming a member of our team, please call or stop by our office.
Chief Scott Frandsen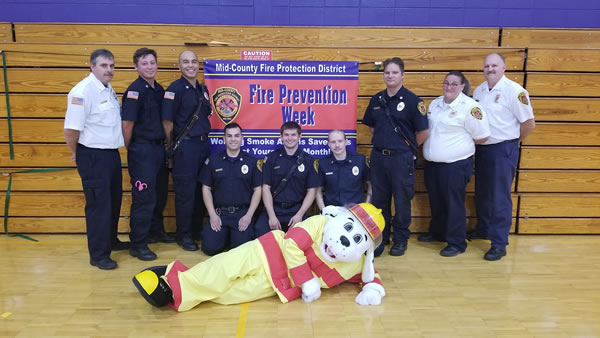 Mid-County Fire Protection District Board Members
Mid-County Fire Protection District Board Directors serve a 6 year term.
The current Board of Directors pictured from left to right: Vice-Chairman Gary Cuendet, Chairman Charles McElyea, Secretary Rodney Sederwall, Treasurer David Edwards and Assistant Secretary Rich Martin.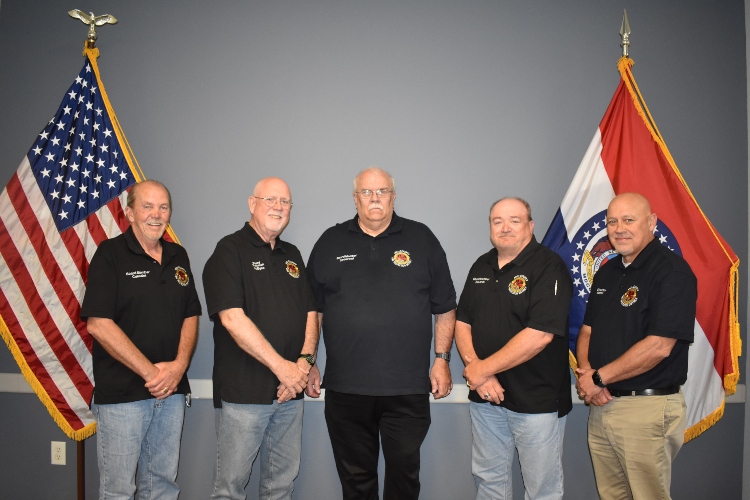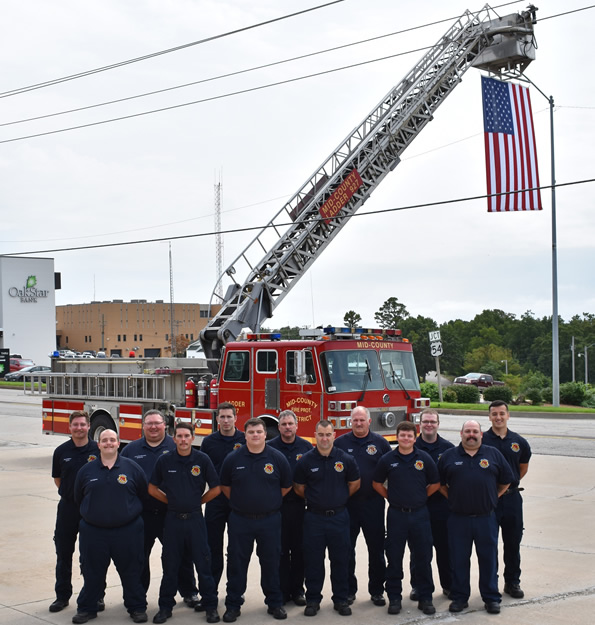 WHO ARE FIREFIGHTERS?
Firefighters are people who are at once the most fortunate and least fortunate of men.
Firefighters are those who are constantly giving of themselves and expecting nothing in return.
Firefighters are those who must rise above themselves to conquer the most overwhelming situations.
Firefighters sacrifice their lives so that others may live.
Firefighters aren't heroes; they're just doing their job.