IMPORTANT NOTICE: Please call our office at 573-346-3262 to find out if it is a burn day.  A permit is required to burn.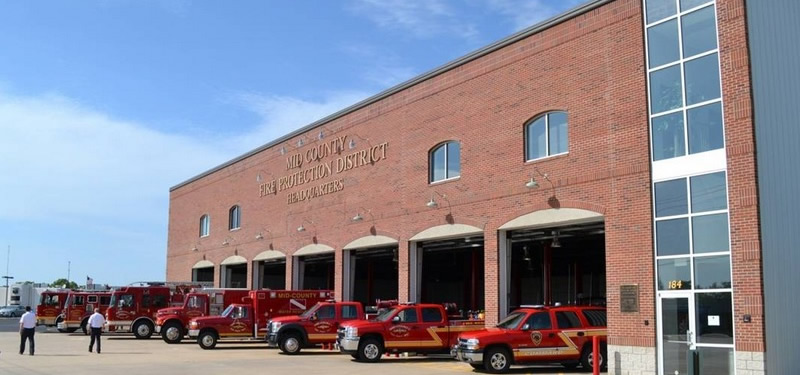 MID-COUNTY FIRE PROTECTION DISTRICT
Formed in 1986, the Mid-County Fire Protection District is located in central Missouri in the beautiful Lake of the Ozarks. This district encompasses 220 square miles in central Camden County. Our full service/multi-discipline department responds to more than 1,100 calls annually, including structural and wildland fire suppression, vehicle and technical rescue, marine firefighting and rescue, dive/water recoveries, emergency medical services, code enforcement, fire prevention/public education, along with a host of other activities and services.
Our six fire stations and two fireboat docks house the following equipment: 4 engines, 6 tankers, a rescue engine, 7 brush/EMS trucks, a 75′ ladder truck, a fuel/utility truck, a dive/water rescue truck and 3 staff vehicles. Forty volunteer firefighters, 6 paid firefighters, an administrative assistant, a Fire Marshal and a Fire Chief make up our staff. The department operates 4 divisions that include: Training, Operations, Fire Prevention and Support Services.
Contact Mid County Fire Protection District
This form is for general inquiries only. In an emergency, contact 911 for immediate assistance.
Greetings from Chief Frandsen
Welcome to the Mid-County Fire Protection District website. Our staff has worked diligently preparing this site, and we are sure you will find it both informative and educational.
Our motivated, dedicated and educated members provide a premium level of service to the citizens and visitors of our district. We provide around-the-clock coverage from our headquarter station and volunteer coverage from our outlying stations.
If you have any questions about any fire district operation, or have any suggestions on how we may improve any of our programs or services, please do not hesitate to contact our office. We are constantly looking for individuals who are willing to challenge themselves and become a part of our organization.  If you would like to get information about becoming a member of our team, please call or stop by our office.
Chief Scott Frandsen
MCFPD Awarded SAFER Grant for Recruitment & Retention
In 2011 Mid-Country Fire Protection District was awarded a SAFER grant for Recruitment and Retention. As a result of those funds the District has initiated a resident program that will provide the necessary training and hands on experience to become a professional firefighter. Qualified applicants will be interviewed and tested and chosen to become part of the District's program. They will commit to two years of service. We will commit to certified training opportunities through Missouri University Fire and Rescue Training Institute. (MU FRTI); opportunity to obtain Associates in Fire Science through Columbia College; hands on training with professional firefighters; and free housing including internet , fully equipped gym, kitchen and dorm like sleeping facilities. MORE INFORMATION
WHO ARE FIREFIGHTERS?
Firefighters are people who are at once the most fortunate and least fortunate of men.
Firefighters are those who are constantly giving of themselves and expecting nothing in return.
Firefighters are those who must rise above themselves to conquer the most overwhelming situations.
Firefighters sacrifice their lives so that others may live.
Firefighters aren't heroes; they're just doing their job.